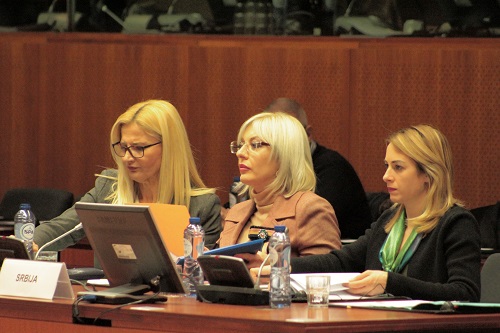 The seventh meeting of Intergovernmental Conference on the accession of Serbia to the EU for opening of chapters 6 (Company Law) and 30 (External Relations) was held on 11 December 2017 in Brussels.
The head of Serbian delegation was Jadranka Joksimović, minister for European integration, and Tanja Miščević, Head of Negotiating Team, Anja Rović, State Secretary in MEI, Ksenija Milenković, acting assistant minister in MEI and the representatives of MEI and the Mission of the Republic of Serbia to the EU also attended the meeting.
The meeting was chaired by Sven Mikser, minister of foreign affairs of Estonia, and the commissioner for neighbourhood policy and enlargement negotiations Johannes Hahn also spoke at the conference. The participants were addressed as well by Emilia Kraleva, deputy minister for European affairs of Bulgaria. On behalf of the EU, the representatives of the European Commission, the General Secretariat of the Council of the EU, the European External Action Service and EU member states also attended the meeting.
After the introductory remarks of minister Mikser, commissioner Hahn and minister Joksimović, the agenda of the meeting and Minutes from the Sixth Intergovernmental Conference held in Luxembourg on 20 June 2017, were formally adopted. After that, the decision on opening chapters 6 and 30 was adopted and the contents of these chapters were presented.
At the end of the meeting, minister Mikser formally concluded the conference, and minister Joksimović and commissioner Hahn gave their concluding remarks and also participated in press conference which was held after the meeting.