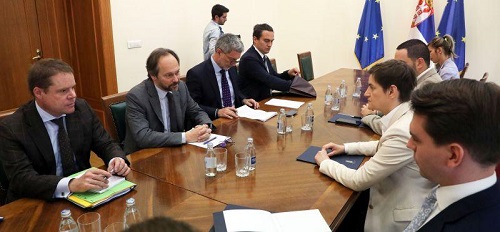 Prime Minister Ana Brnabic talked today with Head of the EU Delegation to Serbia Ambassador Emanuele Giaufret about further progress of our country's accession negotiations, Serbia's energy security and gas diversification, as well as last week's visit of European Council President Charles Michel to Serbia.
Prime Minister Ana Brnabic pointed out that with the successfully implemented judicial reform, Serbia has shown a clear commitment to European integration and judicial reform in accordance with European Union standards, and that consultations with the Venice Commission are expected to continue regarding the activities on a set of judicial laws.
Ambassador Giaufret stressed the importance of continuing successful constitutional reforms in a timely manner to make the judiciary more independent.
When it comes to the continuation of reforms in the media sphere, it was pointed out that the most important is the further implementation of the Action Plan for the Media Strategy, in order to further improve the safety of journalists and media freedom.
The officials emphasised that financing projects from pre-accession funds should continue; these projects include those focused on the Green Agenda, environmental protection and infrastructure projects and projects aimed at further public administration reform and support for EU membership negotiations.
Also, it was pointed out at the meeting that additional engagement is necessary to increase Serbia's energy security, especially when it comes to the gas sector and the possibility of diversification of both routes and suppliers.
Ambassador Giaufret explained that "as a consequence of Russia's aggression against Ukraine, which puts Europe's security at risk, as well as food and energy security, it is extremely important that Serbia and the EU strengthen cooperation in key sectors where we can achieve greater results together."
Serbia and the EU can work together to increase Serbia's energy independence, secure and reliable energy supplies and increase the use of renewable energy sources, Giaufret said.
Strong financial support is the foundation of this co-operation, especially the European Union's Economic and Investment Plan for the Western Balkans, which could generate €30 billion in investments in the Western Balkans, for example for the reconstruction of gas interconnectors.
The Head of the European Union Delegation praised Serbia for successfully managing the migrant crisis when it comes to the latest wave of refugees from Ukraine, thus once again showing solidarity and humanity.
He also reaffirmed the EU's readiness to continue supporting Serbia's migration management system especially with regard to the consequences on the country's health system.
Belgrade, 23 May 2022