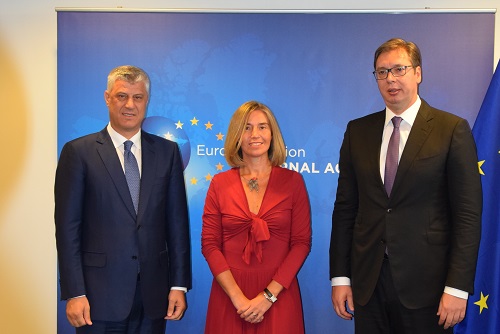 Informal meeting at the highest level between Belgrade and Pristina, under the auspices of the EU High Representative for Foreign Policy Federica Mogherini, was held on 3 July 2017 in Brussels. Apart from the President of the Republic of Serbia Aleksandar Vučić, the Director of the Office for Kosovo and Metohija Marko Đurić also attended the meeting.
Two sides tentatively agreed to start working on a new phase of the dialogue aiming at normalization of relations. It was agreed that the teams of both sides would immediately start working on the preparations of the upcoming meetings. The importance of the implementation of previously reached agreements was also reiterated.
During separate bilateral meeting, which preceded the informal common meeting on dialogue, President Vučić had a discussion with EU High Representative Mogherini. On this occasion, for the first time, Vučić requested, inter alia, from the EU representatives to determine a framework date for the accession of Serbia to the EU.