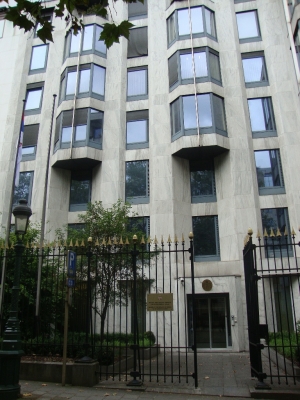 Address
Boulevard du Regent 53
1000 BRUXELLES
BELGIQUE
Phone: +322 / 649-82-42,
Fax: +322 / 649-08-78
E-mail: mission.serbia.eu@mfa.rs
Republic of Serbia towards full EU membership

Republic of Serbia towards full EU membership

Photographic presentation of Serbia, author Dragoljub Zamurović

NEWS

AGREEMENT ON COOPERATION IN THE FRAMEWORK OF COPERNICUS PROGRAM


Тhe Agreement between the European Commission and the Republic of Serbia on cooperation in the framework of the Copernicus Earth Observation and Monitoring programme was signed in Brussels, on 7 June 2018. The Agreement was signed by Philippe Brunet, Director for Space Policy, Copernicus and Defence, on behalf of the European Commission and by Vladimir Popović, State Secretary at the Ministry of Education, Science and Technological Development on behalf of the Republic of Serbia.

Economic and Financial Affairs Council– ECOFIN

T


The final meeting of annual Economic and Financial dialogue between the EU and the Western Balkans and Turkey was held on May 25th, 2018 during the Economic and Financial Affairs Council – ECOFIN. Serbian delegation was led by Ms. Jorgovanka Tabaković, Governor of the National bank of Serbia. At the meeting, the participants discussed about Economic Reform Programmes for the period 2018-2020 (ERP), which were submitted to the European Commission earlier this year. Fiscal framework was the main topic of the meeting and Serbia was commended for strong fiscal consolidation that has been implemented in the previous period. In addition, it was noted that financial stability, especially with a decline in non-performing loans, has been preserved.

Joint conclusions of the Economic and Financial dialogue were adopted the end of the meeting.





MINISTER FOR ENVIRONMENTAL PROTECTION OF THE REPUBLIC OF SERBIA GORAN TRIVAN VISITED BRUSSELS ON DECEMBER 20, 2017


Minister for Environmental Protection of Serbia Goran Trivan visited Brussels on December 20, 2017. On this occasion, minister Trivan met the Commissioner for Environment, Maritime Affairs and Fisheries Karmenu Vella and discussed current topics related to the accession of the Republic of Serbia to the EU. Commissioner Vella welcomed the establishment of a new ministry for environmental protection and added that the European Commission will continue to strongly support Serbia in this and related areas. Minister Trivan invited the Commissioner to visit Serbia at his earliest convenience.